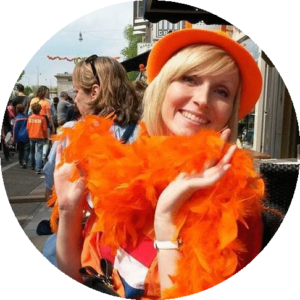 Gabriela Piskackova
Nationality: Czech Republic
Age: 29
Host country: Holland
City: Voorhout
Number/Age/Sex of children: 2/13 and 16 – both of them with special needs/Boy and girl
Duration/year: 9months/2014
How did you know the au pair program?
I wanted to get experience abroad so I visited an Au Pair placement agency focused on cultural exchange programs and one of the possibilities was Au pair program.
What inspired you to participate in this cultural exchange program?
I didn´t have anybody to go with me abroad so I wanted a program with defined conditions – especially: to have accommodation, some money, just to know I will have something to eat and somewhere to sleep. 😀
How did you prepare yourself to become an Au pair?
I have worked with children in a private nursery school for two years before becoming an Au pair so I had experience with working with children. My English wasn't so good so I learned English intensively for half a year before becoming an Au pair.
Why this country?
Why Holland? Well, have to say, I don't know. In my case it was a feeling or intuition telling me that this country would fit me. And I'm really happy I chose this country.
Tell us a bit about your host family
 I became an Au pair in a three-member family. I looked after two children with special needs (autism and down-syndrome). In the beginning it wasn't so easy because I had to find out how to work with children requiring special approach. But it was absolutely worth it! I learnt a lot in the area of care of children with special needs and I enjoyed every successful coping of a new activity.
What is your duty or responsibility?
I participated in the organization of children's activities, I looked after them during the defined time, I picked them up from their hobbies, we visited a swimming-pool once a week. I cooked and did light cleaning of the household, sometimes I did shopping too.
Did you get an opportunity to travel or studying language?
Yes, I did. My host family paid for an English course for me. I also got time for travels.
According to your opinion, what was the most important thing you have learnt from Au paring?  Thanks to Au pair program I have become more self-assured, I have got lots of experiences, new friends, I could meet culture and habits of Holland and improve my English. You actually find out you are stronger than you thought. So it is a lot of things I've discovered.
What is the key qualification Au pair should have?
Patience, resolution, a good relationship with children – because Au pair will spend time with them a lot, be friendly and responsible is important as well.
Would you recommend Au pair program to those who are interested? Have any advice?
Absolutely! Be Au pair is a great experience, you can live in a new country, learn the culture of the host country, its people and way of life. You will meet new friends from all over the world!
Be prepared that in the beginning of a cultural exchange program can be hard, you will be in a foreign country, with foreign people and far away from your family and friends.
You will become a caretaker of a child you don't know yet and have to get to know him/her in order to get along with them. This is a tricky part and usually takes some times until the relationship between you and the child gets developed and things become easier. Plus if you don't speak the language of your host country, you will surely encounter communication problem. And, remember that each family has its own rules that you must follow, so respecting the rule and their privacy is crucial. Good common sense will help you get through any kind of situations though.
However, with time you will learn to how to cope with situations more properly which is best for the child. For the daily routine of your host family, sooner or later, you'll become familiar with it. You will get more and more friends that you can spend time with or go on trip together. Your language will get better and better every day.
I´m so happy and appreciative I have experienced cultural exchange program. It gave me more self-assurance, lots of experiences and I met great people…
So… Go ahead!
Gabriela Piskáčková
Work at ADP company
Processing of data